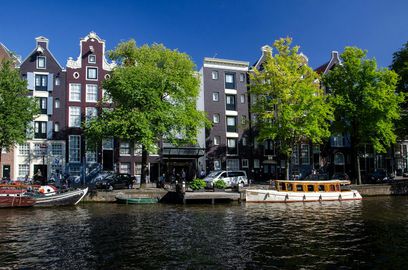 The Nine Streets are part of the East Jordaan, just over the dividing thoroughfare of the Rozengracht. Here lies one of the city's most delightful shopping and leisure districts. These picturesque streets straddle the 17th-century canals from the Singel via the Herengracht, Keizersgracht to the Prinsengracht via nine bridges.
Breathe in the atmosphere of cosmopolitan Amsterdam while you wander from designer boutiques to antique stores, visit art galleries and gift shops, leaf through paperbacks and prints at a bookstore, or simply sit down at one of the numerous terraces lining these streets to take a break, eat a meal or taste a glass of wine or coffee before moving on.
During the 17th century, when Amsterdam grew explosively and trade flourished propelling what is known as its Golden Age, a very ambitious expansion project was initiated. Herengracht, Keizersgracht and Prinsengracht, the city's main canals, were dug (mostly by convicts and prisoners), reinforced and the houses lining them were built. The Canal Ring, also known as the Canal Girdle, was completed around 1660, enlarging the city four times over and endowing it with the most intricate and efficient system of navigable waterways in the world. A maze of interconnecting canals was peppered with boats delivering merchandise from all over the globe right to every merchant's doorstep. A fleet of hundreds if not thousands of barges carried goods from the big sailing ships moored in the harbor to all the corners of this most modern city at that time. In those days, more goods were moved on barges through the canals than would even remotely be possible by trucks along the quays today. Over a thousand warehouses stored approximately one-third of the world's supply of goods and nine floating markets catered to the citizens' daily needs. In 2009 the three main canals were placed on the UNESCO's World Heritage List.
20th century marked the arrival of cars, trucks, buses and the public transport. Plans were drafted to fill in a great number of canals and thus make them navigable for vehicles instead of ships. Fierce protests by the locals rescued the massive filling. In 1955 however, the police commissioner submitted another thorough proposal to the City Council, which entailed solving the growing traffic problem by filling in all the canals and turning them into highways. The public almost tarred and feathered the official for this malfeasance. However, almost half of the original canals in Amsterdam were eventually filled in and paved, leaving only 25 percent of the city still consisting of navigable waterways, together totaling about 65 miles.