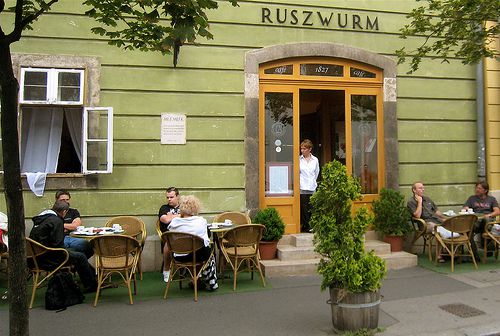 The Ruszwurm pastry making house has been going strong since 1827. It was first established by Ferenc Schwabl and to this day much of the interior remains more or less as it was throughout the whole of the XIX century.
In its long history the café has enjoyed several notable owners. After Schwabl's death, just 3 years after he founded the establishment, it was taken over by Lenart Richter who also married his widow. Lenart was the former court baker to Archduke Joseph, Palatine of Hungary, and his reputation was so good that he would get orders from as far away as Vienna. After his death his assistant Antal Müller took over, and this was when the current furnishings and Biedermeier period interior were put in place.
Perhaps the most notable and central of the furnishings is the XVIII century counter made of cherry wood with mahogany inlay, which transports you right back to the past. On one side of the shop there are also glass cabinets filled with table ornaments and charming little figurines.
The shop was often frequented by nobleman and even the royalty were fans of the confectionary. Queen Elizabeth, wife of Franz Joseph I (fondly known as Sissi to Hungarians) was a fan of the Ruszwurm Cream Pastry. In more modern times other famous visitors include musician Dave Gahan, lead singer of British pop group Depeche Mode, and also award-winning Hungarian actor Stephen Sztankay.
Surprisingly, although the building was damaged during the sieges of 1849 and 1944 respectively, fortunately the interior and cooking equipment remained safely intact.
As for the shop's name, that came about when Müller's daughter Roza married her husband a certain Vilmos Ruszwurm, who was to give his name to the shop in 1884.
You can taste many traditional Hungarian pastries here today such as the world famous Dobos Torte, a Hungarian layered sponge cake which was first tasted by Franz Joseph the 1st and Queen Elizabeth at the National General Exhibition of Budapest in 1885.
You can also find Rigo Jancsi cake, a delicious chocolate sponge with a scandalous love story behind it. Legend has it that Rigo Jancsi, a famous Hungarian gypsy violinist seduced Belgian Countess Clara Ward, Princess de Caraman-Chimay with this chocolate sponge delight. They first met in a Parisian restaurant where the countess was dining with her husband, Prince Joseph. Rigo was the violinist who was to sweep her off her feet and elope with her, creating a huge scandal at the time. No one is sure if he had the cake specially made for her, or if the sponge was simply named after the shocking liaison took place.
Close to the establishment itself you can also find the statue of Andras Hadik, a famous Hungarian Hussar (also known as "the most hussar of the hussars") sitting astride his horse. Coincidently, Hadik also has a famous coffee shop named after him. You might well notice that this is a popular statue for onlookers. This is not just because it is a nice statue, but also because of its colourful reputation. In the past it was a tradition for students at the nearby Technical University dormitory to touch the horse's shiny testicles to give them good luck before they took any exams.