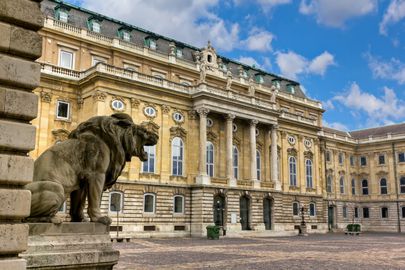 There can be no better building to house the Budapest History Museum, also known as Castle Museum, than the Royal Palace complex in Buda, which has itself not only witnessed so much of the turbulent history of Budapest, but actually played a major role in its unfolding.
Since its creation in 1887 the Budapest History Museum has been set up in various temporary accommodations over the years but finally came to its permanent home, the newly renovated Royal Palace, in 1967.
The main entrance to the museum is in the 'E' wing and can be found via the Lion Courtyard of the Royal Palace named after the impressive lion statues that guard the gate to the inner courtyard. This can be found just to the right of the famous Matthias Fountain which tells the sad story of King Matthias who, one day went out into the countryside on a hunting trip in disguise. Apparently he often went out incognito so he could ensure his people were being treated properly. There he met and fell in love with a peasant girl by the name of Ilonka. He told her to come visit him in Buda, without revealing his true identity. When Ilonka did come to Buda she saw a large crowd welcome him and found out he was King. Assuming he would never marry her, she returned home devastated and died of a broken heart. The King, who had failed to notice her in the crowd returned to the countryside shortly after only to find she had passed away. Legend has it that anyone who throws a coin in the fountain will be granted safe return to Budapest.
This impressive museum covers four floors and houses an incredible array of historical artefacts, some going back in time as far as 40,000 years. For example, you can see deer antler hammers which were used by prehistoric man, right up to posters from the twentieth century.
The basement of the museum includes a vaulted chapel which are the remains of the original thirteenthcentury medieval palace. The display includes medieval armour and Gothic sculptures. There is also a permanent exhibition about Budapest's 1,000 year history which takes the visitor on a journey through time with interesting artefacts, models and comprehensive displays.
One of the great things about the Budapest History Museum is, because of the superb location, as you wander around you can also get to see somefantastic views of Budapest from out of the windows. And don't forget, you are also in the palace itself which is simply brimmingwith history.
The museum also has a pleasant courtyard which is free to enter with more stunning views across the city. Plus there are always temporary thematic exhibitions as well as the permanent ones, so there is always something new to see and learn.