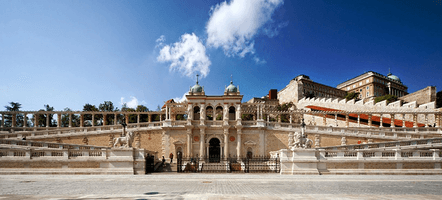 The recently renovated Castle Bazaar and Royal Gardens are a must visit place. The gardens really do provide the visitor to the Castle District with a fabulous entrance or exit to the area, depending on from which way you choose to enter the district in the first place.
The gardens and terrace offer a splendid panorama of the Danube and the surrounding area and provide the visitor with some idea of what the Royal Gardens were like in the past. It was completed in 1883 and designed by MiklósEbil, who was also the architect responsible for the Opera House and many other prominent buildings constructed in Budapest at this time.
Just like so much of the rest of Budapest, these gardens have an interesting history. The area was originally built for Queen Elisabeth of Hungary (known fondly as Sissi to Hungarians). Included in the Bazaar, it was an arcade of shops and artist studios.
Unfortunately, like so many other buildings in Budapest it was badly damaged during the Second World War. Before the recent major renovations that were fully completed in 2014, teenagers and young adults in the 60's, 70's, and early 80's flocked here. During this time the place was known as "Ifi Park" which was short for Youth Park in Hungarian. Ifi Park was an unusual state funded venue which was opened to the public in August 1961 and was the place where the youth could go and watch live music concerts and dance. However, the scene wasn't exactly reminiscent of Woodstock or Glastonbury. The behaviour inside the park was strictly monitored by the communist police. It was compulsory for men to wear a jacket, shirt and tie. Girls skirts had to be of a reasonable length and concert goers had to dance according to the rules.
Although, even this did not dim the popularity of the park. In 1972 a famous Hungarian singer and guitar player by the name of RadicsBéla played the venue. It was reported that 10,000 people attended the concert and eyewitnesses said that the entrance queue went as far as the Chain Bridge!
It wasn't until 2014 when this area was to come back to life again. In addition to the wonderful renovation of the buildings and the 5,000 square metres Neo-Renaissance gardens, there is also now an underground event room for exhibitions and photo displays.