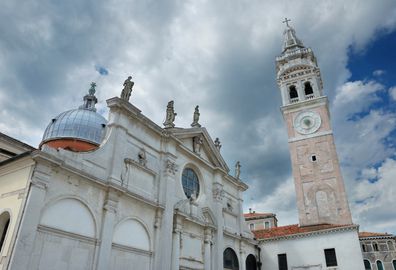 Standing on the eponymous campo, one of Venice's largest, the Church of Santa Maria Formosa has roots going back all the way to the 7th century. It was Saint Magnus of Oderzo, who, after receiving a vision of a "shapely" Madonna, had the original church erected on this spot in 639. Though initially called the Church of the Purification of the Blessed Virgin, the epithet "Formosa" prevailed among the curious churchgoers and the shrine has been called Formosa ever since. It was renovated in the 9th and 12th centuries and was completely reconstructed in 1492 by one of Venice's greatest architects, Mauro Codussi.
Codussi completely restructured the church's floor plan. He changed the original Greek cross layout into one of the Latin cross. There were now three naves, a presbytery, a semicircular apse and large chapels along the side naves. Later a sanctuary was created next to the transept - the space perpendicular to the naves. Codussi died in 1504 and therefore could not see the erection of the two facades, which were financed by the Cappello family. On the eastern Renaissance façade, which faces the canal, the family placed a funeral monument dedicated to Admiral Vincenzo Cappello. The northern, more elaborate Baroque façade, facing the campo, was adorned with three other family funeral monuments. The graceful belfry was designed and erected in 1611 by Father Francesco Zucconi, the parish priest. A grotesque head is sculpted above the entrance to the belfry, protecting it from wicked demons, who, according to superstition, wanted to appropriate the bells.
Inside the church we can find some noteworthy works of art. The first chapel on the right contains a triptych dedicated to the conception of the Virgin Mary by Bartolomeo Vivarini. It shows the Virgin of Mercy, her father Joachim meeting her mother Anna and the birth of the Virgin. The next chapel presents a painting of "The Pieta'" by Jacopo Palma the Younger. Further down, on the other side of the transept, we find the polyptych of St. Barbara, by Jacopo Palma the Elder. Finally, the oratory houses a small canvas by Giambattista Tiepolo, "Madonna with Child and St. Dominic."
Today the Church of Santa Maria Formosa is a famous meeting point among Venetians. The campo provides ample space for children's football matches and the bar in front of the belfry by the canal serves excellent sprits, ones that on a starry night can induce wonderful visions of the Madonna, in all shapes and sizes.