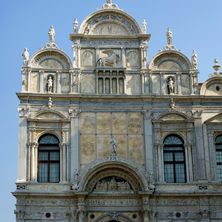 During the Venetian Republic a scuola grande was a confraternity that devoted its energy and resources to charity and religious works. There were six of them in the city. The Scuola Grande di San Marco was one of the biggest and most important.
The first building that housed the confraternity was built in 1260, but two hundred years later it was devastated by a brutal fire. The construction of a new seat was headed by architect Mauro Codussi. He erected the white and polychromatic Renaissance façade, as well as the internal staircase, which was rebuilt in the 20th century according to the original structure. The wall facing the canal was designed by Jacopo Sansovino in the 16th century.
On the façade we see a series of marble decorations and high reliefs, including two Lions of St. Mark, which are attributed to the Lombardo family of sculptors and architects. The lunette above the entrance, showing "St. Mark venerated by the confraternity members," is a work by Bartolomeo Bon. Inside, on the second floor, in the Sala Capitolare we can admire the gilded coffer ceiling, along with paintings from the 15th and 16th century masters: Palma the Elder, Palma the Younger, Vittore Belliniano, Jacopo Tintoretto and his son, Domenico. In 1819, when Venice was under Austrian domination, the Scuola Grande di San Marco became a military hospital. Today the building, along with the former Dominican monastery behind it, is used as a public hospital, the Ospedale Civile Santi Giovanni e Paolo. If you need an ambulance, make sure you do not suffer from seasickness, because the fastest way to the hospital is by water.