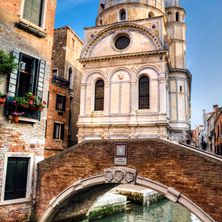 The Church of Santa Maria dei Miracoli was built not only to venerate the Virgin Mary; it had another, more particular purpose. In the 15th century there lived in the neighborhood a merchant who was in possession of an icon of the Madonna. The icon was considered to be miraculous by the local population. So precious and fragile was the image that the authorities decided to build a church that would not only honor it, but also physically protect it.
The contract was given to Pietro Lombardo, who, with the help of his sons Tullio and Antonio, erected the little shrine in only eight years. In 1489 the icon had a new home and the church became one of the first Venetian edifices to be constructed in the new graceful Renaissance style.
Although the position of the Miracoli, as the Venetians call the church, seems rather precarious - it looks as if it may fall into the canal - its ornamentation is indeed spectacular. All four exterior walls are covered with polychromatic marble, including touches of white, serpentine, yellow and red. The façade's semicircular pediment - the upper part surmounting the pilasters - is decorated with an intricate rose window, three oculi and two marble circles. Protruding from the tympanum above the door is a bust of the Madonna with Child.
The church's single-nave interior is even more magnificent than its exterior. It is also covered by the same polychromatic marble and the ceiling is decorated with gilded coffers, all of which contain images of prophets and patriarchs. A marble staircase, buttressed by two polygonal pulpits and four statues, leads up to the tiny apse. On the main altar stand two statues of St. Peter and St. Anthony the Great, jealously guarding the miraculous icon with the Virgin and Child standing on a field against a red background. So fine and meticulous are the details of this edifice that it seems we are looking inside a little treasure chest rather than a temple dedicated to the Mother of God.
The Church of Santa Maria dei Miracoli was restored in the 1990s by the Save Venice Organization. Its restoration time and cost had been estimated at two years and one million dollars. However, the actual time was ten years and the final bill was four million dollars. The only fault that can be attributed to this gorgeous temple is that it is almost entirely secluded. It is surrounded by old residential buildings and does not stand on a spacious campo, from which its facade could be admired at a distance. The visitor is forced to look at it from up close. Nevertheless, the rear part of the church, especially the apse and cupolas can be seen from Campo Santa Maria Nova, which spreads out on the other side of the canal. It is a lively campo, hosting an antiques market almost every weekend, which tourists and locals alike rummage in search for more miraculous memorabilia.