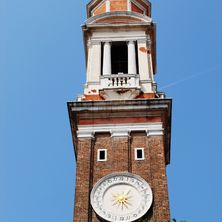 Although the present Church of the Holy Apostles of Christ was built in the end of the 16th century, it stands on the site on which stood one of the first eight churches of Venice. It was St. Magnus, Bishop of Oderzo, who in the 7th century had a vision of Christ's twelve apostles ordering him to go to what would later become the city of Venice and erect a shrine in their honor. While on the island he decided to build seven other churches. The original temple was demolished in 1021. The belfry with the sundial that we see now was erected in the 17th century and its onion dome was added in the 18th.
The most interesting part of this single-nave church is the Cornaro chapel inside, which accommodates the tombs of members of the Cornaro family. It was built in 1490 by Mauro Codussi, who also built the portico on the lateral façade. The Cornaro family had been one of the wealthiest and most influential families in the Republic. Caterina Cornaro was Queen of Cyprus, having inherited the kingdom upon the death of her husband King James Lusignan 2nd. When other powers in the Mediterranean tried to take possession of the island, the Venetian government recalled the Queen back to the lagoon in order to install a military regime in Cyprus. In return for her abdication, Caterina was given a little fiefdom in the Veneto countryside, Asolo. Returning to Venice in 1489, she brought with her the remains of St. Amethyst and buried them in the Church of the Holy Apostles. She was extremely popular among the people and when she died in 1510, the funeral procession was so large that the authorities had a boat bridge assembled over the Grand Canal for people to cross more safely. Caterina was interred in the family chapel, but in 1584 her remains where transferred to the more stately Church of San Salvador by the Rialto Bridge. Her father and brother, however, still lie in the chapel. The Cornaro altarpiece, "The Communion of St. Lucy," belongs to the brush of Giambattista Tiepolo.
Worthy of admiration are also the main altarpiece, "The Custodian Angel," attributed to Bernardo Strozzi, and, just to the left of it, "The Gathering of Manna," which happens to be one of Paolo Veronese's last paintings.