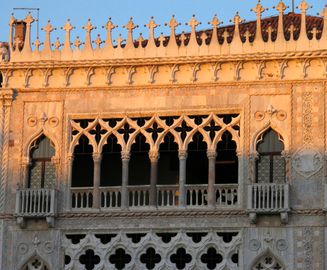 The name speaks for itself: House of Gold. Today, almost six hundred years after its construction, this palace still has one of the most dazzling and intriguing facades in the city. It is always the first palace that newcomers to Venice fall in love with as they take the vaporetto from the train station and navigate down the Grand Canal.
Built between 1428 and 1430 by Giovanni Bon and his son Bartolomeo, the palace was originally called Palazzo Santa Sofia, in honor of the church that is located on the other side of what today is the Strada Nuova. Its first owner was the wealthy merchant, Marino Contarini, who coordinated the construction. After Marino's death, the palace was passed down to his son Piero. But after Piero's death, the House of Gold was divided among his daughters, who started an endless succession of restoration projects that would drastically alter the building's internal layout. The biggest restoration job, however, was commissioned towards the second half of the 19th century by the then owner, Russian Prince Alexander Trubezkoy. He employed architect Giambattista Meduna to give the palace its decisive look. In fact, most of the façade that we see today is the work of Meduna. In 1894 the palace was bought by a baron from Turin, Giorgio Franchetti, who further restructured the edifice, having the inside layout resemble the original 15th century structure. Franchetti wanted the palace not as a residence, but as a home for his impressive art collection. He stipulated a contract with the Italian government in which the state would pay for the restoration in return for the palace upon the owner's death. Gravely ill, Franchetti committed suicide in 1922 and his museum, La Galleria Giorgio Franchetti, was opened to the public five years afterwards.
The name 'House of Gold' derives from the fact that the original 15th century façade contained elements of pure gold. They were interwoven with polychromatic marble, which did not survive throughout the ages, but which inspired Meduna's reconstructed façade in the 19th century. In the courtyard stands one of the most beautiful wells of Venice. Created by Giovanni and Bartolomeo Bon along with the original palace, the marble well is embellished by engravings of flowers and allegories of Justice, Strength and Love.
Among the most important artworks constituting Franchetti's collection are Andrea Mantegna's "St Sebastian," Paris Bordone's "Sleeping Venus," Titian's "Venus with a mirror" and "Judith," three paintings by Vittore Carpaccio dedicated to the Virgin, several canvases by Francesco Guardi, and some parts of the 16th century Giorgione frescoes taken down from the Fondego dei Tedeschi. The best time to gaze at the house's façade is during sunset when orange rays intermingle with the bright polychromatic marble, creating a vivid light show.