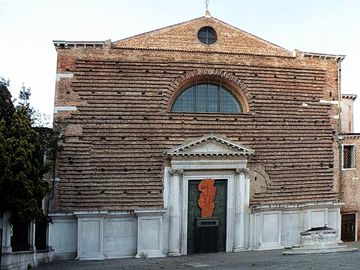 The word Marcuola is a Venetian contraction of Ermacora, the Italian name of Hermagoras, the first bishop of Aquileia. Aquileia was the center of the Venetic people, those who migrated to present day Venice in the Middle Ages. Mark the Evangelist, Venice's patron saint, is known to have preached in Aquileia in the 1st century A.D and appointed Hermagoras to continue with the evangelization of the territory.
The Church of San Marcuola is one of a few Venetian churches that remains unfinished. In fact, we can see that it is missing the final layer of the façade. It was erected in the 12th century, thanks to funding from one of Venice's oldest patrician families, the Memmo. The church replaced an earlier Romanesque shrine built by a small community of Veneti that had fled the Longobard invasion of northern Italy several centuries earlier. Towards the end of the 17th century the city authorities decided to reconstruct the church and accepted a plan designed by Antonio Gaspari. Unfortunately, due to insufficient resources, the plan was realized only a hundred years later by architect Giorgio Massari.
Massari built the new church with a single nave and a barrel vault, that is, a semicircular ceiling. He also added the octagonal tented roof, one with slopes rising to its peak. Inside the edifice, the presbytery was created out of a semicircular apse, thus completing the main rectangular chapel. The presbytery also contains the church's most celebrated artwork, "The Last Supper," a painting by Jacopo Tintoretto.
Although the Church of San Marcuola does not present much historical, religious or artistic significance, it is the resting place of a very prominent 18th century Venetian statesman, Andrea Memmo. However, today Andrea Memmo is a household name in Venice not because of his diplomatic missions, not because of his patriotism as a senator, not because of his ambitions to become a liberal-minded doge, not because he was a patron of architects, having created the beautiful Prato della Valle in Padua, not even because he sold practically all of his property in order to give his daughters a dowry. No. Andrea Memmo went down in the annals of history thanks to his friendship with Giacomo Casanova and his tempestuous relationship with Giustiniana Wynne.
Giustiniana Wynne had been conceived out of wedlock, but was finally legitimized by the marriage of her non-noble Venetian mother and noble English father, who died soon after his daughter's birth. Giustiniana met Andrea when she was sixteen and he was twenty-four. The two fell in love immediately, but, since marriage was out of the question due to their different social classes, they began a secret affair that lasted seven years. Giustiniana's mother forbade her from seeing Andrea, hoping that this would preserve her daughter for future candidates. It was indeed a steamy situation. Besides constantly writing each other letters, which have survived to this day, Andrea is also known to have continuously sent his beloved vials with his seed. Their desperate passion was the talk of the town. Memmo tried to use his family's influence to persuade the authorities. He petitioned them formally, and informally, to permit the marriage. And for a while it seemed that the two lovers would be able to unite. But, just as the permission was about to be granted, someone notified the authorities about Giustiniana's mother's dishonorable past and the whole thing was ruined. The Wynne family was mired in scandal. Consequently, they fled Venice and settled in Paris, where Giustiniana found out that she was pregnant. In order to save her reputation, and figure, Giustiniana decided to have an abortion. For this she turned to Memmo's old Venetian friend, Giacomo Casanova. But here begins a new story, one that has nothing to do with the object of our attention, the Church of San Marcuola.