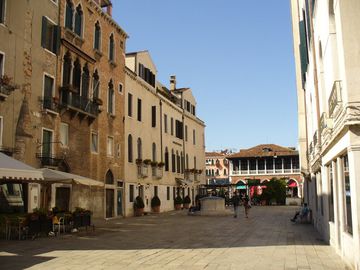 Strada Nuova is the name of the street that links the train station to Campo dei Santi Apostoli. It is the main drag in Cannaregio and happens to be the longest and widest urban artery in the city. Although the name, to be precise topographically, refers only to the tract between Campo dei Santi Apostoli and Campo Santa Fosca, Venetians use it for the entire passageway.
It was built in the 19th century by a filling in a series of canals. The first intervention was carried out during the Austrian occupation in 1818, connecting the part beginning at the Guglie Bridge to the Rio di San Marcuola. The second intervention in 1844 connected the train station to Campo San Yeremiah. That tract today is also known as the Lista di Spagna. The third and final intervention took place after Venice had united with the new Kingdom of Italy in 1866, linking the point by Rio di San Marcuola to Campo dei Santi Apostoli. The entire street was inaugurated in 1871 and was initially called Strada Vittorio Emanuele 2nd after Italy's first king.
Strada Nuova's medium width is ten meters, with the narrowest part stretching only a couple of meters by the Campiello dell'Anconetta, approximately in the middle of the street, by the Rio di San Marcuola.